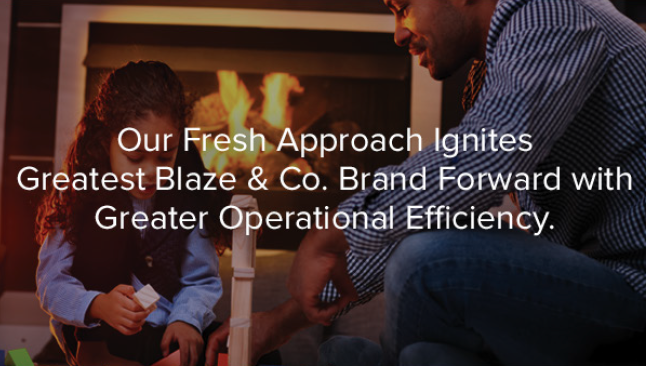 John Abplanalp, Founder of Tight Lines Advisors, helps a premium lifestyle brand improve operational performance, enhancing customer experience, competitive position, and revenue.
The founders of Greatest Blaze & Co. had a great idea; bring their love of a warm, wood-burning fire and related "hearth centric" products to like-minded people so they could experience the "Blazer" lifestyle with family and friends. Before long, the upstart firewood delivery company had an established business with a full line of hand-picked goods, and their revenue was growing. But operational inefficiencies inherent to the starting and growing of a new business were taking their toll on the young venture. The founders reached out to John Abplanalp, a Manufacturing Performance Consultant and CEO of Tight Lines Advisors, for a fresh approach that identified core weaknesses and established a bold path forward for the premium brand. Tight Lines dynamic strategy yielded many impressive benefits, including a sustainable 36% reduction in delivery costs.
Greatest Blaze & Co. was born out of a vision of the founders to bring the outdoors to the masses with the centerpiece of the brand being fire-centric or encompassing the "warmth" of a fire, whether an indoor hearth, outdoor barbecue pit, or grill. To enhance the leisure experience, the company expanded to offer an extensive line of complementary products including furniture, tableware, even pet products. As brand awareness and revenue grew so did the challenges, namely delivery efficiency and matching customer expectations to experience.
From day one, the company's approach was customer focused and any issues that arose were quickly addressed at the customer level. While well intentioned, this "firefighting" approach to problem-solving was not sustainable and failed to address the source of the problems, which constantly reoccurred. Whether it was wrong deliveries, missed delivery dates or website issues, the compounding problems were hurting the establishment of long term customer relationships and the attraction of new ones.
"When we started laying out the actual process, the real picture began to emerge," explains Abplanalp. "Flowcharting the process from conception through delivery exposed gaps and inconsistencies that we could resolve in an organized manner." Through the process, Greatest Blaze stakeholders began to see that key issues could be mitigated at the source to strengthen the overall process. These improvements also had to be sustainable, a centerpiece of the Tight Lines approach.
For instance, wood delivery drivers were receiving misinformation on delivery locales, and though the company had a mapping system, it was not precise enough to enable seamless delivery. Through structured brainstorming, the manual mapping approach was evolved to utilize Google maps technology to coordinate delivery routes. They also began implementing a route optimization protocol with every driver, equipping them with the best technology to plan routes and avoid delays due to construction and/or road closures.
The Tight Lines holistic approach was also applied to improving overall customer experience by assuring pre-communication with the customer on orders, so expectations matched exactly what they received. Despite the best intentions, customer expectations do not always mirror what is being offered. To mitigate any misunderstandings, the company instituted a practice of taking before and after photos of the delivered, stacked wood and sent it to customers with a "thank you" note. Rather than a defensive measure, the gracious note from the company serves both as a courtesy and a record for the company, so that any discrepancies could be quickly identified and resolved.
Tight Line's sustainable improvement strategy also spawned a solution to a rather interesting challenge. Firewood is a heavy commodity and transporting by wheelbarrow can damage lawns. To solve the problem, the team developed an effective and efficient wood moving system, which combined with the previously mentioned improvements, has allowed greatest blaze to go from an average of 4 deliveries per day to 9-10 deliveries per day, resulting in a 36% reduction in delivery costs.
With the Tight Lines approach fully integrated into the process and culture of Greatest Blaze & Co., the improvements started to snowball as evidenced by some key figures:
Delivery costs have been reduced by 36% after 4 months.
With the reduction in overall costs for wood delivery, it is projected that a minimum of $20,000 in annual savings will be added to the bottom line.
Similar sustainable improvements to the ordering process, other product lines, and customer experience have resulted in considerable cost savings as the company grows.
The company is now able to process more orders in less time with greater accuracy.
Customer satisfaction continues to improve, fostering stronger relationships with existing customers, while growing the client base as customers share their positive experiences.
Today, Greatest Blaze & Co. is moving forward with a proven system in place that addresses inefficiencies at their root cause so that they can be eliminated rather than worked around. As Abplanalp concludes, "Sometimes companies think they can simply sell their way out of a problem. That's not always true. While revenue may cover up sins, it doesn't make them go away, and when scale comes in, the effects of issues grow exponentially." With an improved process and outlook, the company is excited about bringing the Tight Lines approach to all aspects of the business as they move towards their goal of doubling their improvement in the year ahead.